Manning two 12k Pars
One of many fill lights on a croud
of 1000
Lighting a TV Commercial
Lighting an
Extreme Ski Event
Manning our Wisperwatt 150 amp generator
One of our four grip/electrics vehicles
Lighting an exterior on a movie set
Lighting a green screen studio shoot
Lighting President G. Bush
Lighting John Kerry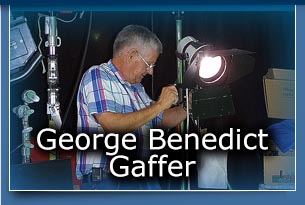 Midwest Producer Services LLC
3904 Santa Fe Trail
Davenport, IA 52804
Cell: 954 328-4711
email:grb34@aol.com

Mr. Benedict has served as gaffer/lighting director on more than 2000 T.V. Commercials, Feature Films, Television Shows and Live Events.

MOVIE CREDITS
The Experiment, Megafault, Ticket Out, South Dakota The Movie, 16 to Life, Sugar, The Hideout, The Librarians, White Boys, Bix, Rude Awakening, The GIG, Fist, Moonbeam Riders, Midnight Cowboy, Paper Lion and many more.

TV PROCUCTION & COMMERCIAL CREDITS
Numerous commercials for Hilary Clinton, John Edwards, Hemingway The Mini Series, Feed America, Eukanuba Dog Food, Days Inn, Ford Motor Company, Amana Appliances, John Deere & Co., Wriggley Gum, Amtrak, ClubMed , Indiana Power and more.

LIVE EVENT CREDITS
Rallies for President Barack Obama, President Bill Clinton, President George Bush, John Kerry, John Edwards, The Iowa Straw Poll with Mitt Romney, The Farm Progress Show and many corporate clients.